Welcome to the Moonkys website !
Here you'll find the available stories of the Moonkys and information on the characters and the world of the Moonkys.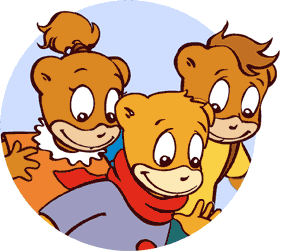 Created by Patrice le Hodey and André Moons, the Moonkys appeared on television through the dynamism of the Odec Kid Cartoons* company, which no longer exists.
Without a producer the authors, Patrice le Hodey and André Moons, regained the rights of exploitation of the films and made this site to show the available material to distributors, publishers and commercial partners.
The public that enjoyed the cartoons, shown for example on the co-productive stations RTBF (Blabla) and TF1 (Ca cartoon !), will find everything to satisfy their curiosity.
Enjoy your visit !